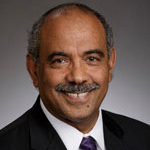 Endowed Professor of Water Security & Water-Energy-Food Nexus, Texas A&M University
Ali Fares is an endowed Professor of Water Security and Water-Energy-Food Nexus at the College of Agriculture & Human Sciences, Prairie View A&M University, Texas.
Fares is an expert in water-energy-food nexus, water security, and climate change. A national leadership on educational and policy, he testified before the US House on the Climate Research and Agriculture. He works on climate crisis solutions. He is an author on the US Fifth National Climate Assessment.  Fares mentored hundreds of students, received national awards, $32 million in funding and a scientific societies fellow. He edited four books, e.g. Climate Change and Extreme Events and published +130 articles. He was a University of Hawaii Professor, a graduate of the University of Florida Ph.D. and M.S. and BS in Engineering from Tunisia.