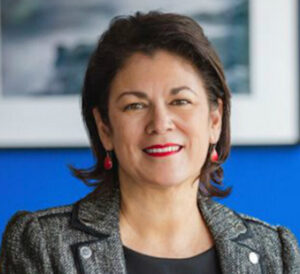 Former President, Global Water Business; Former Executive Director, Sustainability and Resilience, Black & Veatch (Retired)
Cindy Wallis-Lage recently retired from Black & Veatch where she served Executive Director, Sustainability and Resilience for Black & Veatch. She began this role in January 2022 to accelerate an enterprise-wide focus on sustainability and resilience solutions to support clients in the water, energy, telecommunications and transportation markets. Previously Wallis-Lage served as the president of the company's global water business between 2012 and 2021. She has played a leadership role on projects worldwide, helping public and private entities successfully develop, enhance and manage their water, wastewater and stormwater infrastructure via a variety of solutions and delivery methods.
Wallis-Lage is active in numerous educational initiatives and industry organizations. Using her position, passion and knowledge, she is a champion of the Sustainable Development Goals and seeks to educate how systems thinking can provide the needed long term human infrastructure to achieve social, economic and environmental sustainability goals.